Welcome to Melot Law Offices
Founded 1996
Melot Law Firm was founded in 1996 by Oklahoma Attorney John Melot. John is an Oklahoma native, growing up in Lexington, Oklahoma; John realizes the importance of helping people, and is devoted to Oklahomans. Understanding the importance of a law firm you know and trust, John reaches beyond the 'typical' stereotype of a lawyer, and makes sure 'your' best interests are in mind.
Before John started the Melot Law Firm, he spent over 3 years representing insurance companies, and was inspired from those experiences to protect individuals who were taken advantage of by corporate giants. John is devoted to representing the 'underdog', working to provide legal services that are affordable and to provide you with assurance that you are protected legally by an experienced professional attorney.
We provide legal services for a wide range of practice areas, including people who were injured on the job, auto accidents, wrongful death, catastrophic injuries, motorcycle accidents, trucking accidents and personal injury claims. We also provide legal services for estate planning, guardianships, adoptions, and family law.
Our number one goal is client satisfaction. John Melot ensures each client is greeted personally, and John has instituted an office policy to personally return all phone calls within 24 hours. It is our pleasure to help you with all your legal needs.
Legal Services: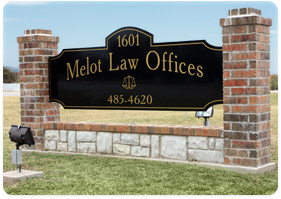 Contact Attorney John Melot in Blanchard, Oklahoma, to speak with a local, experienced and compassionate attorney.
Contact us today for a FREE INITIAL CONSULTATION
Professional Oklahoma Attorney experienced in Workers' Compensation, Personal Injuries, Social Social Security Disability, Estate Planning, Wills and Trusts, Family Law / Divorce, Guardianships, Adoptions,Criminal Defense and .
Melot Law Office is located in Blanchard, Oklahoma, and is available to serve clients throughout Central Oklahoma, including Metro OKC and Norman.
Our law office works in court systems throughout Oklahoma, including Workers Compensation Court in McClain County, Grady County, Cleveland County ,Oklahoma County, Canadian County, Lincoln County, Logan County, Garvin County, Pontotoc County, Payne County, Creek County, Tulsa County, Okfuskee County, Beaver County, Kingfisher County and Pottawatomie County.